Cookbook / "Superfood Kitchen"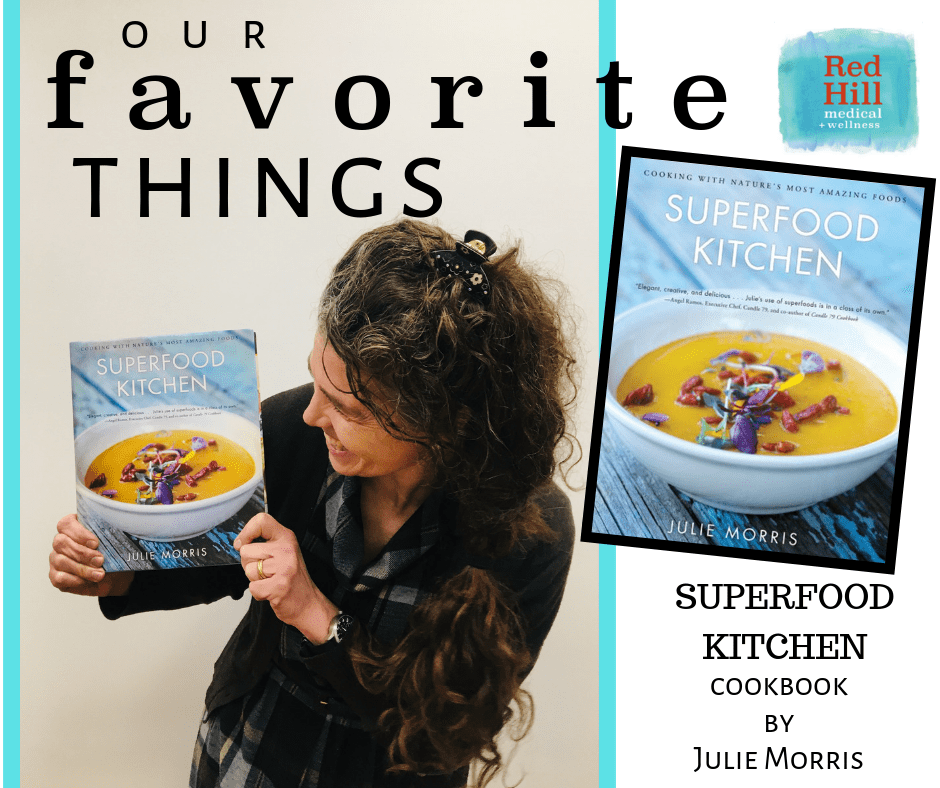 Dr. Kristann is lovin' a modern superfood cookbook these days. This curation of masterful plant-based and nutrient-dense dishes now has a permanent place on her kitchen shelf. Why? Because The New York Times' best-selling author and superfood expert Julie Morris makes it easy to enjoy delicious food that is jam-packed with healthy.
This is officially a Red Hill #FavoriteThing 🙂
K's *top picks* recipes //
Pg. 63 / Quinoa Bowl // "This is a breakfast I'll make on a weekend day when I want to relax and start my day out slow. This quinoa bowl is cozy and provides me with sustained energy (from the hemp protein and the earthy maca). A touch of maple syrup and I'm on cloud 9." -K
Pg. 95 / Sushi Salad // "This sushi salad is so alive and textured – I dig the extra dose of thyroid-lovin' iodine from the seaweed. I love the crunch and the variety of flavors and how filling this salad is. A staple in our house!" -K
Pg. 87 / Carrot + Yacon Soup with Gojis // "Reread the title and that's why. It's a delicious and unique soup!" -K
If you're gonna give this book a go, maybe dial up your local bookstore to see if they can order it for you. #SupportLocal, #ShopSmall! We love Farley's Bookshop in #NewHope – super helpful and friendly people will help you find what you need / (215) 862-2452.
Enjoy reading, cooking and eating!
Red Hill Medical + Wellness
.
.
.
#superfood #superfoodkitchen
#eatwelllivewell #juliemorris
#nutrientsallovertheplace
#shoplocal #shopsmall #localbusiness
Superfood Cuisine with Julie Morris
---